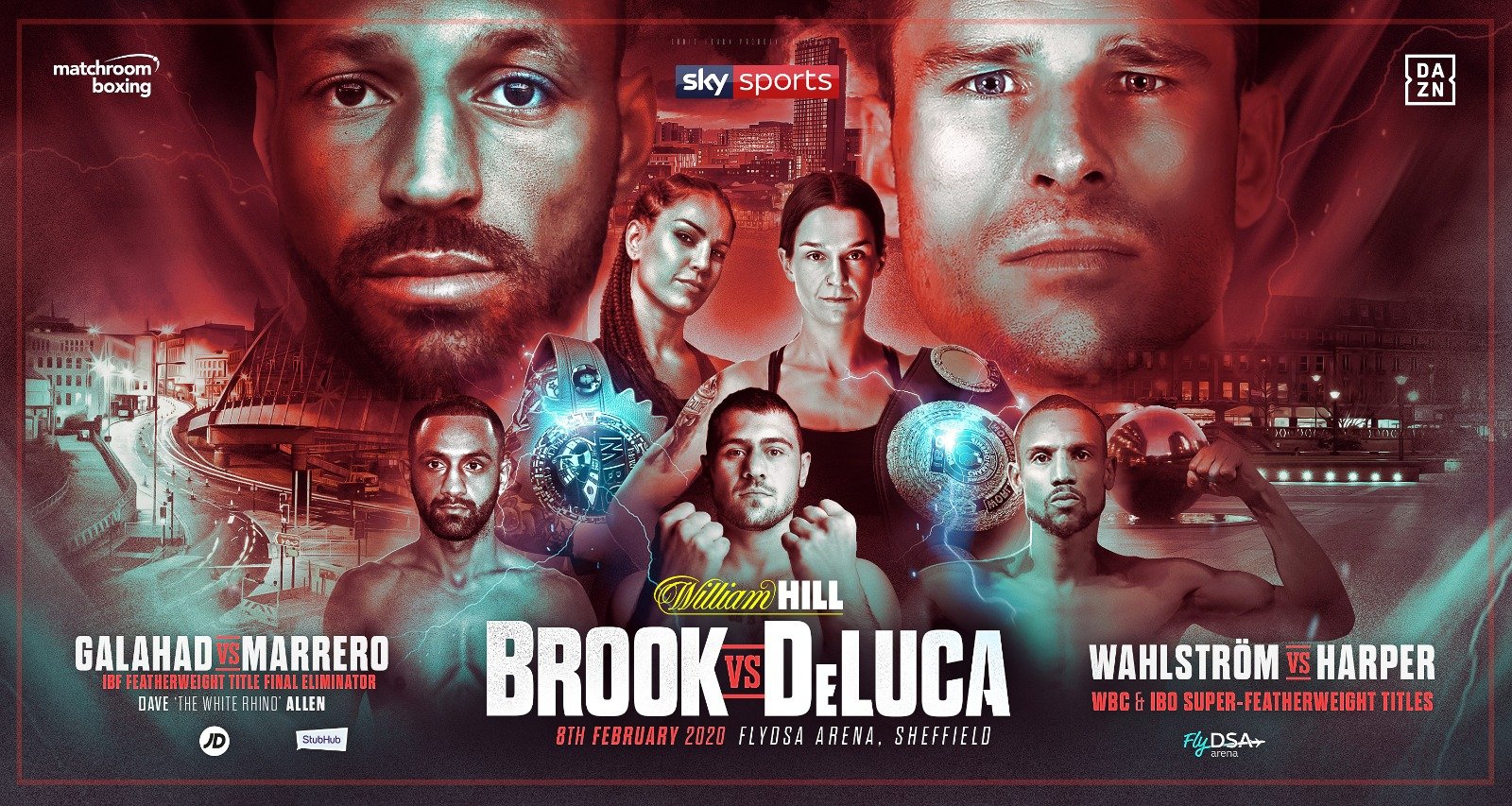 Kell Brook v Mark DeLuca, 12 ROUNDS LIGHT-MIDDLEWEIGHT, Sky Sports – Well look whose back. The question is why, and what for? There doesn't seem to be many Kell Brook fans out there anymore does there? Brook (38-2) returns to Sky Sports this weekend after a 14 month absence, to take on Mark DeLuca (24-1). He still seems hell bent on fighting Amir Khan, and ifs that's the case, just get on with it and get out of my life please. We don't need to sit through the Mark DeLuca's of the world to hear the same things we've heard from Brook and Khan over the last 5-10 year. Both are on the way out of this sport (thankfully in Khans case), so cash in lads and put us out our misery if that's what your aiming for. To be honest, if it was ever made, annoyingly I would actually be excited to watch it! Ive always fancied Brook, and probably still do. But you can argue the last meaningful fight he had was over 2 years ago when Erroll Spence busted him up and made him quit. Spence is pound for pound one of the best in the world, so that defeat is nothing to be ashamed of for Brook. Maybe the way the fight ended could be. The fight was probably knocked out of him when Triple G broke his eye socket the year before in all fairness. That's not an easy injury to come back from, it's an horrendous injury that will surely leave lasting scars for a boxer. That alone makes me think Brook is going to cherry pick a few easy opponents, hope to land the Khan fight then retire. Which is a shame, as after he beat Shawn Porter (a win that has aged very well), he was flying high in popularity but never did cash in at welterweight while he was hot. He's fought twice since the Spence fight, an easy win over Siarhei Rabchanka, and a lousy, dull 12 round win over Michael Zerafa. He starts here a massive 1/25, with the unknown American 8/1. DeLuca's record is as you would expect for a man being brought over the pond to get beat. 25 fights, 13 knockouts, and 1 defeat to Walter Wright (sadly, not the fella from Breaking Bad). Brook needs to look good here, no excuses. Another performance like the Zerafa fight will make him lose more fans that he already has. Brook could, should, and really has to, knock him out in good fashion. A Brook KO win is 2/5, with a points win 12/5. DeLuca, for what it's worth is 12/1 and 22/1. Not much on offer here for a straight fight outcome bet, unless you're going big stakes after a few cans. The Zerafa fight makes me look harder at that 12/5 points win than I properly should. Brook is not a one punch knockout kind of fighter, and you can get 4/5 for a TKO, which is decent value here, as if he keeps landing round after round the ref will almost certainly stop it at some point as the fight goes on and it becomes clear DeLuca can't win. The over/under is 7.5 rounds at 5/6 either way. If I was going group round betting here, I would look at 4-6 at 11/4 or 7-9 at 3/1, as I don't think this ends early or late. I hope Brook smashes him, and goes after another world title rather than Khan. He was a super talented and exciting boxer once upon a time, which seems sadly such a long time ago. He won't be anywhere near good enough to challenge Spence again or Crawford, but there's enough top fighters that I wouldn't mind Brook getting in with. Porter, Garcia, Pacquiao, or Thurman would be good fights for Brook. I really hope he's back to try and challenge the best welterweights, and not just for Amir Khan, which would be sad end to a once promising career.
BNC Prediction – Brook by TKO @ 4/5, Under 7.5 rounds @ 5/6
Kid Galahad v Claudio Marrero, 12 ROUNDS FEATHERWEIGHT, Sky Sports – One could argue this should be the homecoming fight for the new IBF World featherweight Champion. Galahad (26-1) pushed Josh Warrington all the way, and then some, in June last year. He ultimately lost a split decision in Leeds that night, but there are more than few fans out there who think Galahad won that fight. Galahad showed he belonged at world level that night, and will look to push on towards another title shot here. Marrerro (24-3), a former IBO World champion himself, shouldn't scupper those plans here. Galahad is a 1/4 favourite at the bookies, with the Dominican 11/4. Marrrero has lost to arguably the 3 best fighters he's faced, Jesus Marcelo Andres Cuellar, Jesus M Rojas, and Tugstsogt Nyambayar, so it's a good test and a fight he should win for Galahad, on paper at least. It should be a good, competitive fight with the better boxer, Galahad, coming out as winner. You can get Galahad on points at 2/5, with Marrero 11/2. For the unlikely stoppage wins, the odds are 15/2 and 7/1 in Marrero's favour, which shows the bookies think the only way he beats Galahad is by stopping him. This certainly isn't a massively one sided fight. Marrero will push Galahad to perform at his best, otherwise we could have another shock if Galahad has at all looked past him (unlikely). But there's not much to look at here other than Galahad to win on the cards. All 12 rounds is 1/6, I can't see either man stopping the other barring a nasty cut or injury, so were stuck with the 2/5 points win. If you do fancy a late stoppage for a bit of interest, Rounds 9-10 is 12/1 and Rounds 11-12 is 16/1 for either man, but that's clutching at straws I must admit.
BNC Prediction – Galahad on points @ 2/5
Quick Hitters
David Allen (1/100) v Dorian Darch (14/1) – The White Rhino is back. He takes a very easy 6 round fight here against Darch, but no one will be bothered, just glad to see Allen back. He should smash Darch here. Darch has lost six straight, all by stoppage within the first two rounds, so get the Rhino by KO early. Allen by KO inside of 2 rounds (odds currently not available)
Martin Joseph Ward (1/10) v Jesus Amparan (11/2) – Ward on points @ 4/11. This is almost certain to last the full 10 rounds, your typical little Mexican doesn't usually quit.
Guillermo Rigondeaux (1/8) v Liborio Solis (9/2) – Vacant WBA World Bantamweight title up for grabs as everyone's favourite Cuban returns. He's been a lot more exciting lately Rigo, and the KO win at 13/10 is decent enough here. A points win @ 10/11, which is what I would go for.
Gary Russell Jr (2/9) v Tugstogt Nyambayar (3/1) – WBC & IBO World Featherweight title here. Russell should retain here, but weve seen bigger shocks than Nyambayar winning the titles here. I like Russell on points @ 4/11
BNC's Betting Corner – 7th Feb 2020