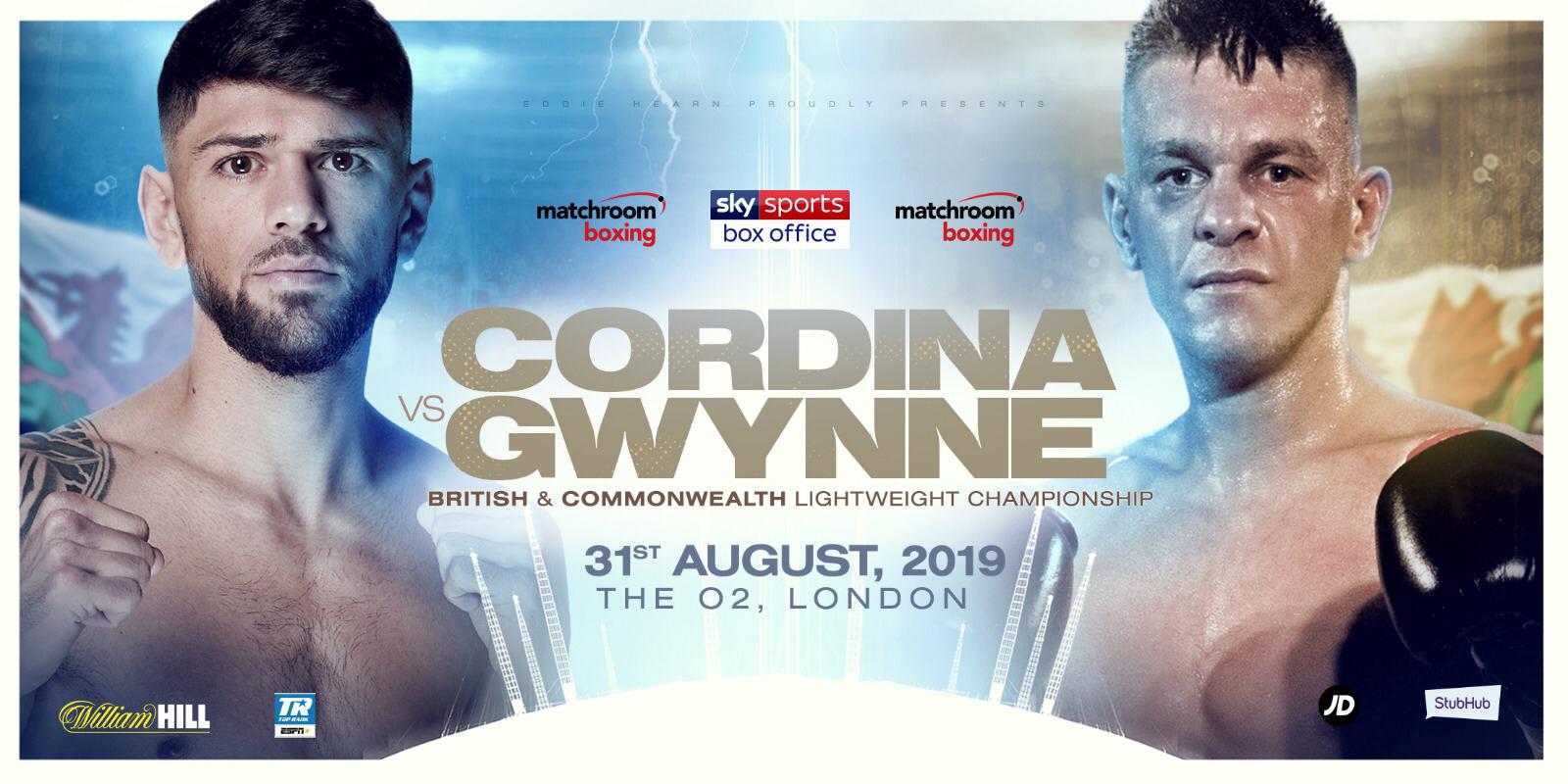 The deal is done and the stage is set for these two undefeated Welsh warriors to put it all on the line and see who reigns supreme in Wales, and what bigger stage than being on the undercard of possibly the event of the year, featuring a P4P great in Lomachenko and Olympic Gold Medalist and World Title Challenger, Luke Campbell.
The fight is to take place on 31st August at the extremely popular O2 Arena, London. The expected ring walk for this bout is expected to be around 8pm LIVE on Sky Sports Box Office and DAZN.
Both Cordina and Gwynne are currently undefeated and whilst Gwynne has more bouts under his belt, you can argue that Cordina has faced and beaten higher calibre of opponents, including Hakim Ben Ali, Masher Dodd and most recently, the hard hitting Andy Townend, where Cordina picked up his British Lightweight Title and retained his Commonwealth Title to sit alongside his WBA International Title.
Cordina made light work of his 3 toughest tests with two KOs and one unanimous decision win and showcased his qualities.

Meanwhile, Gwynne is the current Welsh Lightweight Champion after defeating the tough Henry Janes in an exciting contest that saw Gwynne pick up his first title in a points win.
Gwynne then shortly after went on to fight the very highly rated and then undefeated prospect in Myron Mills (13-1 / 6 KOs). Gwynne went in to this fight as the underdog, even though he had the homea dvantage with hundreds of supporters there to cheer their local hero on. Gwynne outclassed Mills and won via unanimous decision.

Cordina is known for his excellent footwork, fast hand speed and a very high ring IQ, while Gwynne is a very big lightweight, standing at just over 6ft, to Cordinas' 5ft 9″. Gwynne has a longer reach and combined with his incredible engine, work rate and never back down attitude, this promises to be a superb fight and will really help the rest of the UK take notice of the Welsh boxing scene.

Both fighters training camps are well underway, with Cordina being based in Brentwood at the Matchroom Elite Gym under the guidance of Tony Sims, training alongside the likes of Connor Benn, Ricky Burns and Ted Cheeseman to name a few, whilst Gwynne has headed out for another camp in LA alongside former IBF World Champion Lee Selby and amateur standout Jordan Withers, alongside their manager Chris Sanigar, where they are training out of Freddie Roachs' Wild Card Gym plus the Maywood Boxing Club Gym.

Both Cordina and Gwynne are VERY familiar with each other, after all they were stablemates at Tony Borgs' St Josephs Boxing Club in Newport up until 2017, when Cordina turned pro with Matchroom and headed up to train with Tony Sims.
Whilst no previous sparring stories have come to light between the two, there is no doubt they will both have a point to prove come fight night.
How do you see the fight going? Tweet me at @WelshBoxingHub and let me know your thoughts!
Article by Matt Taylor (@WelshBoxingHub)
Content to be reproduced without prior permission. Email: welshboxinghub@gmail.com
A Preview of… Joe Cordina -vs- Gavin Gwynne For the British & Commonwealth Lightweight Titles