Main Fight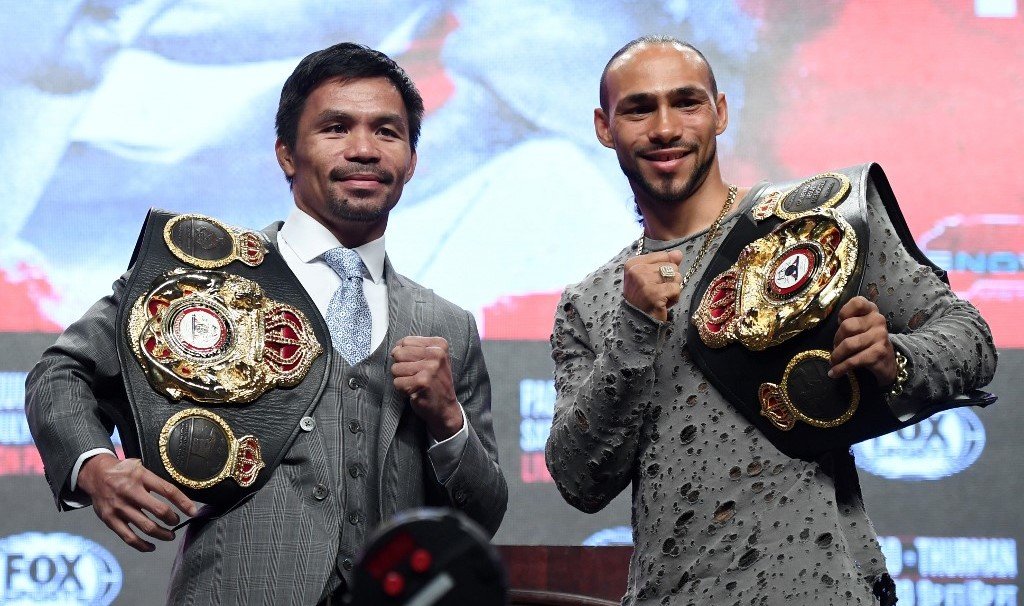 Keith Thurman v Manny Pacquiao, WBA SUPER WORLD WELTERWEIGHT TITLE, ITV PPV (£12.95) – When this fight was first made I thought Pacquiao had no chance. I thought he would get smashed. He still might, but Freddie Roach has made me think twice. His comments and logic in the build-up have made me now think this could actually be a 50/50 contest. Roach has said Thurman is so slow, too inactive, and just not good enough to beat Pacquiao. The inactive part I definitely agree with, the other two im not so sure. Pacquaio (61-7-2) is an all-time great boxer, who will be remembered and spoken about for generations to come. His career could end up unmatched. However, he's now 40 years old, and recent opponents, Horn, Matthysee  and Broner, are nowhere near as dangerous as Keith Thurman. Thurman (29-0) has had a rough time with injuries which has led to the inactivity over the over last 3 years. Since a very good 2016 win over Shawn Porter, Thurman has fought twice, Danny Garcia and Josesito Lopez, which makes you sometimes forget about him. He didn't look his best in those fights either, the Garcia fight was a very close split decision win (as it should have been with two world class fighter), and the Lopez win a closer than expected majority decision, where Thurman did seem troubled. So maybe Freddie is right, and Thurman is a hype job and there for the taking. If Manny can beat Thurman here it would be a brilliant way to end his career should he chose to. Thurman is the first genuine top level contender, in his prime, that Pacquiao has faced since arguably Tim Bradley in their rubber match. The winner likely (hopefully) gets a date with Errol Spence next. The bookies have Pacquiao as favourite at 4/6, and Thurman 6/5. Not much in those odds but I did maybe expect Thurman to be favourite. Both men have stated many times in the last week or so that this is not going 12 rounds, so it probably is. Thurman to win on points is 2/1, and Pacquiao a little better at 11/8. If I favour anyone by stoppage, its Thurman. Pacquaio is not going to stop many at the top level these days, but Thurman has the power advantage between the two for definite at this stage. Pacquaio has walked onto many counters in this career, so could easily walk onto one here. Thurman to keep his title by stoppage is a good 5/1 shot here, with Pacquiao 9/2. Thurman needs this win way more than Pacquaio does, and im sticking to my original thoughts of a Thurman win, but in no way as certain as I was 6 weeks ago.
BNC Tip – Keith Thurman to win (6/5), or Keith Thurman to win on points at better value (2/1)
Other Notable Fights
Dillian Whyte v Oscar Rivas, 12 ROUNDS HEAVYWEIGHT, Sky Sports Box Office (£19.95) – Dillian Whyte (25-1) returns to action this weekend against arguably his toughest test since Joshua, in facing Oscar Rivas (26-0) at the O2. Whyte is desperate for another big world title fight, but since the top 3 have been tied up, Rivas is a good fight for him as he lies in wait. He will certainly need to be better than he was for 10 rounds against Dereck Chisora last December, or those title hopes will go up in smoke. Unbeaten Rivas is fighting outside of Canada for only the 4th time in 26 fights here, and the only significant name on his record is Bryant Jennings who he stopped impressively last time out. That, on paper, could make it seem this is an easy, stay busy fight for Whyte, but in my opinion its far from it. Rivas is tough and should push Whyte to bring out his best on Saturday night. Whyte starts a big favourite at 1/5, with Rivas coming in at 7/2. This should likely go 12 rounds, and you can get that at a very good 4/6, with 11/10 for it to end inside the distance. Whyte should and likely will, win this on points. Whyte on points is a great even money, with a KO coming in 8/5. Ill be quite shocked if he can stop Rivas, but that big overhand right is always threat. You can get Rivas at 13/2 for a KO win, and 8/1 for a points win. While Rivas will trouble and frustrate Whyte during this fight, he likely hasn't got enough to spring an upset.
BNC Tip – Dillian Whyte on points (evens), Fight to go the distance (4/6)
David Allen v David Price, 12 ROUNDS HEAVYWEIGHT, Sky Sports Box Office (£19.95) – Here we go again on the rollercoaster that is David Price. Price (24-6) is never in a dull fight these days, and I can't see this one being any different. Fan favourite David Allen (17-4-2) is on a career resurgence since getting stopped by Tony Yoka in 2018. Nick Webb, Samir Nebo, Ariel Estaban Bracamonte and Lucas Browne have been stopped since. If this goes past 4 rounds, Price will be added to that list. He seems to have a 3-5 round window to win does Price, then after that his body shuts down, he can't function and he gets stopped. How that's possible for a professional boxer is another story. Pricey has a big chance here early for me. He has good enough power to stop Allen if he lands early. Odds are 4/9 for Allen, and 7/4 for Price. This goes either two ways for me, Allen KO at 1/2, or Price KO at 21/10, it can't possibly go the distance. Allen is 11/1 and Price 20/1 for points wins. I can certainly see Pricey landing a massive shot early doors here and potentially stopping the White Rhino, but if Allen bides his time, boxes smart and lets Price gas himself out without getting hit too much, he should be able to easily stop Price himself after the 4th or 5th round onwards.
BNC Tip – David Allen to win by KO (1/2)
Quick Hitters
Dereck Chisora v Arthur Szpilka, 12 ROUNDS HEAVYWEIGHT, Sky Sports Box Office – Its tough to dislike Chisora (30-9) these days. Everyone seems to be rooting for him. While he's shown numerous times he not anywhere World level, Szpilka (22-3) should prove a good test of where Chisora is. Chisora starts 3/10 and Szpilka 5/2. Chisora has been in some dreadfull fights over the years, but this one could be entertaining. Im pretty uncertain of how this ends, except that Chisora should win. Szpilka lasted 9 against Wilder and Chisora isn't a massive puncher, so a Chisora KO at 5/4 seems unlikely. Chisora to win on points 13/8
Yordenis Ugas v Omar Figueroa Jr, 12 ROUNDS WELTERWEIGHT, ITV Box Office – Potential fight of the weekend. Ugas (23-4) gave Shawn Porter a hell of a fight back in March, and could have easily been declared the winner. He starts 3/10 here against Figueroa (28-0-1), who is 12/5. Big fights beckon at 147 for the winner here. Ugas to win on points 1/2
Caleb Plant v Mike Lee, IBF WORLD SUPER-MIDDLEWEIGHT TITLE, ITV Box Office – Ridiculous mismatch world title fight here, Mike Lee (21-0) should be nowhere champion Caleb Plant's (18-0) level. Subway Man Lee won't be unbeaten anymore come Sunday morning. Plant is 1/25 and Lee 10/1 outright. Caleb Plant by knockout at 8/13
Luis Nery v Juan Carlos Payano12 ROUNDS BANTAMWEIGHT, ITV Box Office – Big punching Luis Nery (29-0) starts a big 1/20 here, against Payano (21-2). Nery is a massive puncher, and this could resemble Payano's loss to Inoue . Nery to win by knockout 1/5
BNC's Betting Corner – 19/7/19