The first edition of our #MailBBBox has landed.  We received a steady stream of questions and have a range of boxing personalities to answer your queries.
Following his recent loss to Lomachenko, where does Anthony Crolla go from here? Billy from Gateshead.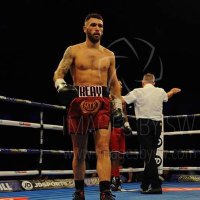 I would say personally, he should retire, he's done above and beyond probably everything in his career he could possibly dream of. Getting beat of [Youssef] Al Hamidi so early in his career then coming back to win a British title. To then get knocked out off Derry Mathews to win a world title and then have 2 unification fights. Then to box pound for pound for me number 1 out then. I don't think anyone could of called that! He can hold his head up very high and be very proud of his career.
Darren Reay, Pro boxer with a record of 4-0-1.  Darren boxes next on the MTK Newcastle show on May 3rd.
What do you make of Tunde Ajayi's recent claims about Kovalev being a 4 round fighter? And Yarde not sparring? Allen (@_AGC90  on Twitter)
Why do you think Eddie Hearn gets so much stick from fans? Latest example being the mismatch of Crolla and Lomachenko? Gary Russell (We aren't sure if it's THAT Gary Russell)
How good is Lomachenko and who can challenge him? Jonny, Hull.
Honestly, he is on another level.  He is so good that NO-ONE beats him at lightweight for a very long time!  He's a special talent. 
'Smoking' Joe Maphosa, undefeated Teesside Super-Flyweight contender. 
Is this Saturday's show worthy of the O2 Arena with Dave Allen headlining on Sky? Eric Norton
Yes looking forward to seeing Dave Allan (and Joe Cordina is always worth watching).  Dave is not a house hold name but a good mate as I have promoted him at Rainton Meadows before. He is a top man and deserves a break. 
Phil 'Jaffas' Jeffries, longstanding North-East boxing promoter and manager
Unbeaten prospect Joe 'The Benwell Bomber' Laws also had his say on Dave Allen…
And that wraps up the first delivery of #MailBBBox!
If you have any questions or thoughts you want to share on the current situation in boxing, hit us up on Facebook, Twitter, Instagram or email with #MailBBBox and we will put them to one of our many boxing personalities.