By Scot Norman,
Tony Bellew – One step too far or one step from greatness?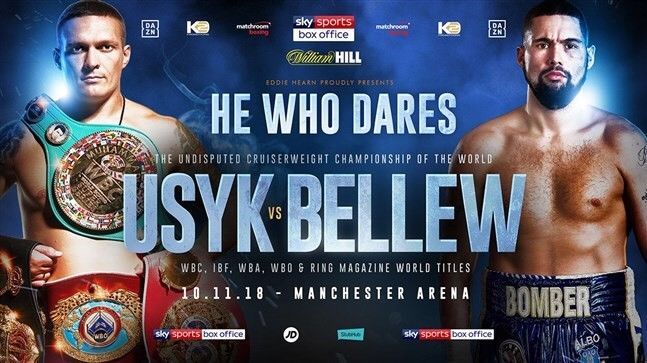 Tony Bellew has one fight left in him.
Usually, this would mean a hometown fight against a somewhat capable fighter, where the fans can watch you one last time on your way out, and thank you for the career you've had and the moments you have given then. Sometimes it works, and sometimes it doesn't. The fairy-tale ending isn't always possible (Ricky Hatton).
Tony Bellew has well truly thought, "f*** this, if I'm going out, I might as well go out with a bang!
And on November 10th, at the Manchester Arena, that is exactly what will happen.
The last fight of his career will be against the best Cruiserweight currently on the planet, Oleksandr Usyk, for the all of the marbles – the WBA Super World, WBC World, WBO World and IBF World Cruiserweight titles.
This could be one step too far for the 'Bomber', who has as big a set of balls as a British fighter has ever had. Or on the other hand, he could be one step from being remembered as an all-time great British fighter, and a possible Hall of Fame career when the dust settles and it's looked back on in 5-10 years from now.
Bellew was once seen as a foul mouthed, brash Scouser and you would have struggled to find many British boxing fans who liked him, given this perception.
However, Bellew has seemingly won the hearts of the British public over the last 2-3 years. Once seen as an, at best, decent fighter, he has become one of the most exciting and likeable fighters we currently have.
The road to Usyk, and potentially all of the belts started way back in November 2007, when on his professional debut, fighting at Light-Heavyweight at the Nottingham Arena, he dispatched  of Jamie Ambler in the second round,
Bellew then went about his business comfortably in the early stages of his career, going 12-0 with 8 KO's. He stepped up the level of competition in March 2010 where he faced Atoil Moore for the vacant Commonwealth Light-Heavyweight title. Moore did not see the end of the first round as Bellew smashed him out of there.
Wins over Bob Ajisafe and Ovill McKenzie (twice), saw Bellew call out WBO Light-Heavyweight champion Nathan Cleverly.
The build-up and pre fight antics of particularly Bellew, were something Conor McGregor would be proud of today. The foul mouthed attacks, throwing of tables and behaviour of Bellew saw him lose many fans and adhere to the previously mentioned "brash Scouser" reputation.
He gave Cleverly a better fight than most expected when the two stepped between the ropes, and lost a close majority decision in a highly competitive contest.
After the first set back of his career, Bellew got back on the horse with wins over Danny McIntosh, Edison Miranda, Roberto Bolonti and Isaac Chilemba, before being offered a shot at WBC king Adonis Stevenson in Canada. Bellew gladly accepted the fight, however was easily beaten and battered to a 6th round TKO.
Most saw this as the beginning of the end for the Bomber, two shots at world titles and two defeats saw him labelled as just not good enough for the world stage.
Bellew (maybe agreeing with this) made a bold move to go up to Cruiserweight, claiming he could no longer make the light-heavyweight limit.
He got off to a good start at the higher weight four months later, beating Valery Brudov (KO-Rd12) and Julio Cesar Dos Santos (TKO-Rd5), before a familiar face entered his path. Nathan Cleverly had also moved up to Cruiserweight, and a rematch between the two was made for November 2014 in Liverpool.
Sadly, the fight failed to deliver and is widely regarded as one of the most boring fights in recent memory, Bellew boxed his way to an extremely close split decision win, which again didn't endure him to the British public, but it did show that he was more than just a crude fighter, and was a better boxer than people thought.
Ivica Bacurin and Arthurs Kulikauskis were easily despatched next, then a European title win over Mateusz Masternak, widely regarded as one of his finest wins against a true Cruiserweight talent, and brought Bellew the biggest fight of his life. Eddie Hearn persuaded Ilunga Makabu to travel to the UK to face Bellew for the vacant WBC World Cruiserweight title, and gave Bellew every conceivable advantage by putting the fight at Goodison Park, home of Bellew's beloved Everton Football Club.
The big punching Makabu was rightfully seen as the heavy favourite heading into the fight and not many gave Bellew a chance.  When the first bell rang on the 29th May 2016, the atmosphere was electric, everyone inside the stadium firmly supporting the local lad.  They were soon silenced as Makabu landed a left hook that saw Bellew hit the canvas. At this point most people thought that the end was close, with Bellew once again unable to step up when faced with a world ranked challenger.  However Bellew had a much second round, and seemed to have gathered himself and found his footing. Then came round three and Bellew rocked Makabu with a  brilliant left hook and right uppercut before rendering him unconscious with a barrage of blows, as referee Victor Loughlin called off the fight.
The crowd was ecstatic and Bellew equally so, falling to the floor in tears as he had finally realised his dreams of becoming a world champion. This, I believe, was the turning point for Bellew and the British public, seeing how much it meant to him to finally get to the mountain top in the home of his beloved football team, and in such exciting and explosive fashion gained him many fans.
An easy first defence against BJ Flores happened 5 months later. However, the fight was not the main talking point. After Bellew stopped Flores in the 3rd, he went straight over to David Haye, who was doing punditry for Sky Sports, and even attempted to jump out the ring to get at Haye. Haye laughed it off, rightfully so considering he was now a heavyweight.
Bellew demanded the fight everyone thought he shouldn't take. Haye (once a great cruiserweight himself) is not the biggest heavyweight in the world, but still a lot bigger than Bellew.
However, in true Matchroom style, Eddie Hearn surprisingly made the fight. The build up to the May 2017 grudge match was in as poor taste as you are likely to find. Both fighters were called to appear in front of the British Board of Control to explain their actions, with Haye saying in public he hoped to kill Bellew inside the ring.
Even if you disagreed with the actions of both men, you had to agree it sold more PPV's and gained more casual fanfare because of it.
Haye was expected to blast the smaller man away early and easily inside the O2 Arena. However Bellew weathered the early storm, then disaster struck for Haye. In the 6th round after throwing a punch, he landed his foot awkwardly and seemed to have twisted his ankle on first glance. It was much worse than that, as the Achilles tendon was ruptured and he struggled to walk.
To his immense credit, Haye continued for another 5 rounds in what must have been excruciating pain, hoping to land one 'Hayemaker' to win the fight. Bellew boxed clever knowing this was Hayes only hope, and systematically broke him down in a patient and intelligent approach, Finally after knocking down in the 11th round, Shane McGuigan threw in the towel, Haye with nothing left to give, and Bellew had done the seemingly impossible. Again.
The injury suffered by Haye however played on both fans and fighters mind alike, and offered the perfect narrative and perfect excuse to have another lucrative, big money fight.
Both fighters agreed to a re-match fourteen months later (an earlier November date was cancelled as Haye sustained a training camp injury). The build-up was much more respectful this time round, both fighters seemingly earning each other's respect in their first fight.
The fight itself was shockingly easy for Bellew, who put all doubts about his victory in the first fight to bed. Haye was an old, broken and physically inept boxer that night, a shadow of his former self, and Bellew took no pity. Down in the 3rd on a beautiful counter shot, Haye got back up and valiantly continued. Bellew continued to land at will, and finally in the 6th round, Haye went down again and Howard Foster correctly waved off the fight.
This would have been the perfect end for Bellew. Millions of pounds in the bank earned from the two Haye fights, thousands of fans gained for his performances and bravery for moving up to fight Haye. Continuing his (exceptional) punditry role for Sky seemed to be his mostly likely future in boxing.
However…
The Cruiserweight World Super Series of Boxing was wrapped up in July 2018, with the outstanding Ukrainian talent, Oleksandr Usyk winning the competition in style with a classy victory over Murat Gassiev in the final, along with unifying the division in the process by winning every possible major belt.
Despite this glory, he was looking for a big named opponent to enhance his standing in the boxing world and bring a glamour fight to an often overlooked division.
The big name he called out after winning the Ali Trophy was Tony Bellew.
Tony Bellew answered the call and said he fancied the fight. Once again the majority of the boxing public thought he was crazy.
The fight was made for November 10th, as Bellew moves back down in weight to Cruiser to fight a man who many view as one of the best technical boxers currently on the planet.
To this writer it seems like a gamble Bellow didn't need to take, what with his reputation further enhanced by the aforementioned Makubu and Haye victories and his financial future more than secure after the Haye pay days but Bellew loves proving us all wrong.
There is no personal hatred this time, no unsavoury build up, no fake beef and no threats. This time it will be the boxing that does the talking, as Bellew tests his credentials in the squared circle for one last time against a formidable opponent.
In my opinion Usyk should be too young, too technical, and just flat out too good for the Bomber in Manchester and the bookmakers odds certainly reflect that, with Usyk an overwhelming 1/8 odds on favourite at the time of writing, and Bellew available at odds of 4/1, but the power is with the Scouse favourite, and as long as he's inside the ring and on his feet then anything is possible.
Not many thought he would beat Makabu, he did.
Very few thought he would beat Haye, he did. Twice.
Not many think he can beat Usyk.
Can he? Tony Bellew certainly thinks so, and that could maybe be all that matters.
Tony Bellew – One step too far or one step from greatness?